Our range of guided Kyrgyzstan motorcycle tours and self-guided motorcycle tour itineraries are designed so you can enjoy your ride time, while having the freedom to see the sights, explore the lesser known routes and meet the Nomadic locals. There are plenty of opportunities to learn about Kyrgyzstan, its landscape, culture, mountanous highland trails and people. At night, relax in the accommodations that we have carefully selected for your comfort and great service.
What do we provide during the tour?
If you are realy eager to travel the mountainous country Kyrgyzstan by motorbike and enjoy the whole beauty of nature, you got it! Offtroad trails with exiciting experience of adventure, accompanied by the guide on a board of 4X4 jeep with food supplies and all stuff that needed for the trip. All you have to do is to contact us and pick your personal tour program according to your needs and enterests. So, meals and accommodations will be provided during the whole trip.
What is the most enteresting itinerary to travel Kyrgyzstan?
Territory of Kyrgyzstan is not so huge, but if you want to visit all the beautiful places, the tour may take up to one month. So we picked up the most popular places of the country for the best itinerary to travel. Issik Kul Lake, Son Kul Lake, Tien Shan Mountain range, Suusamir Valley, Tash Rabath Caravan Serai, Mels Pass, Karakol region and many other spectacular places. So here is one of the best routes and  a program of traveling throughout Kyrgyzstan:
Day 1.
Picking up at the airport and transfer to the hotel by car. Having breakfast and some rest with great opportunity to take a shower 🙂
Then, if you ready to hit the road, lets start up the engines and move to meet the challenges.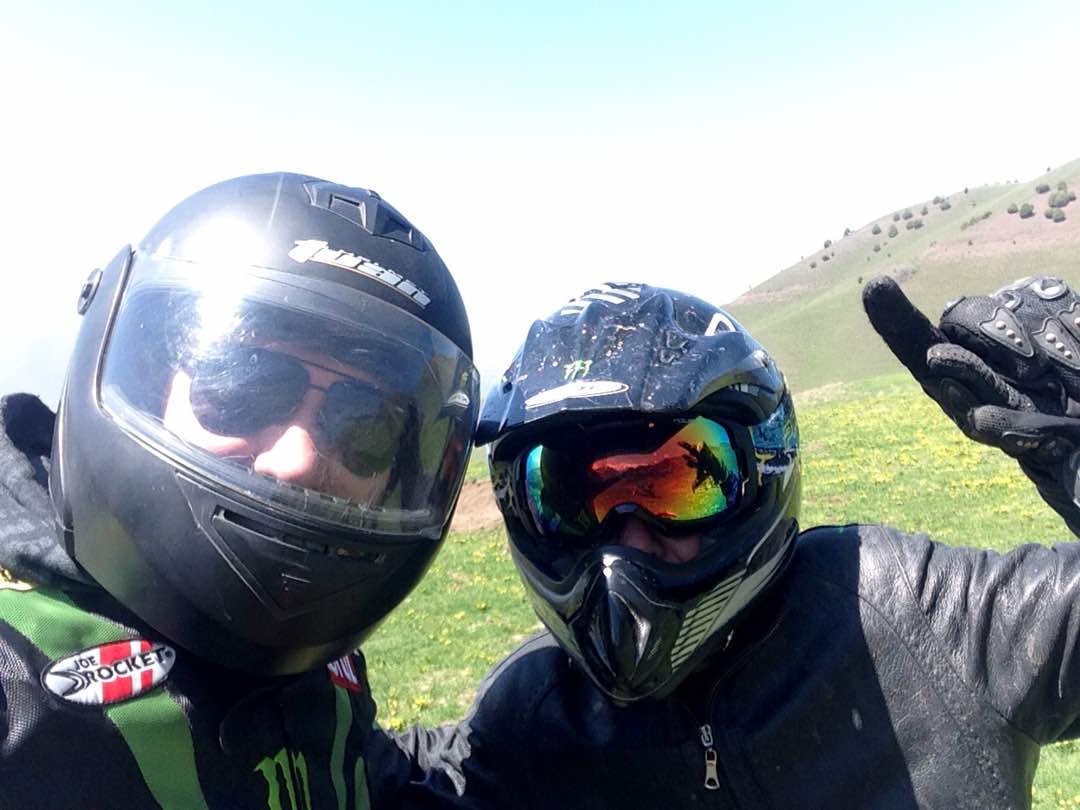 From Bishkek we ride along the highway M41 up to Too Ashu Pass (3350m. high) with the beautiful mountainous scenery. After passing the tunnel on the top and descending down to the valley of Suusamir have some lunchboxes and taking some snapshots of breathtaking views continue our trip along the dirt road to the east to Kysyl Oi village, where we will have dinner and spend overnight in a gesthouse owned by a hospitable Kyrgyz family.
200km. 70% of paved asphalted road, 30% of dirt road
---
Day 2.
After having breakfast we continue our journey to Son Kul Lake, which is located between the mountains on the altitude of 3000 m. above the see level. Wild nature, spending night in a national nomadic portable house Yurt, feel the warmest hospitality of local people.
Driving the whole day along the dusty, dirt roads via Kara Keche coal mining company and mountain passes. On arrival to Son Kul Yurt Camp and having arranged, we will drive up the panoramic mountain, from where you can enjoy viewing the whole lake and beauty from the birds high. Then after coming back, Dinner in Yurt. Overnight sleep in Yurts too.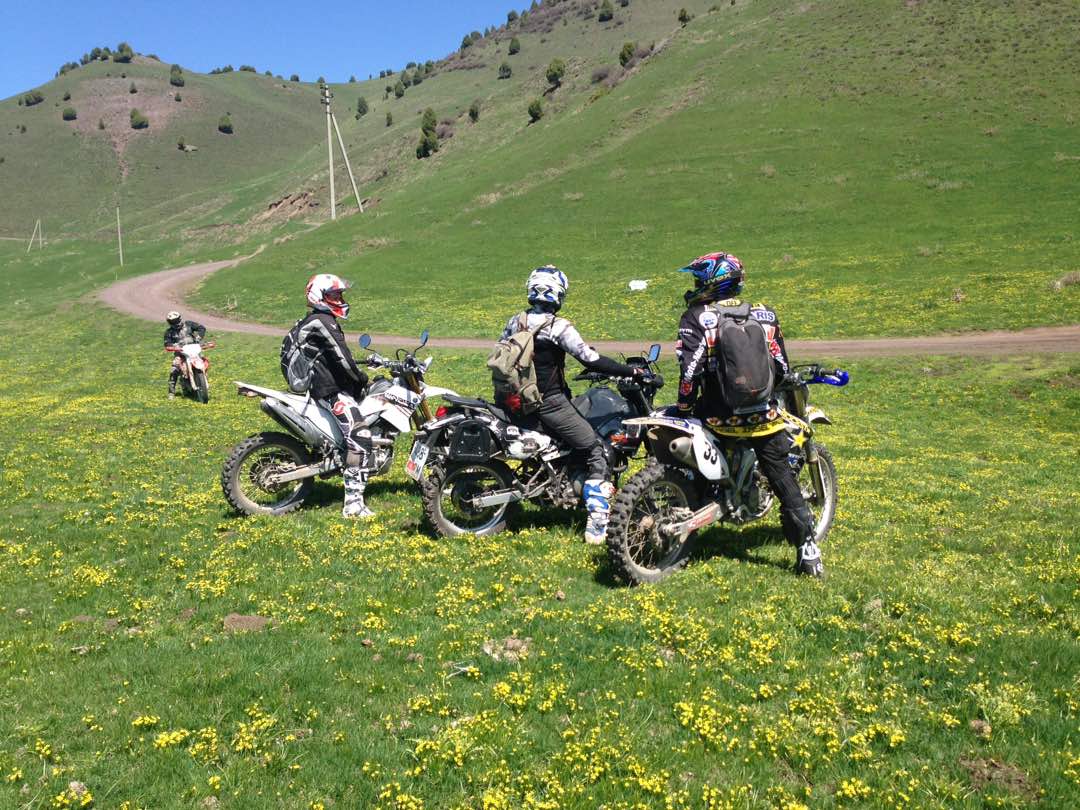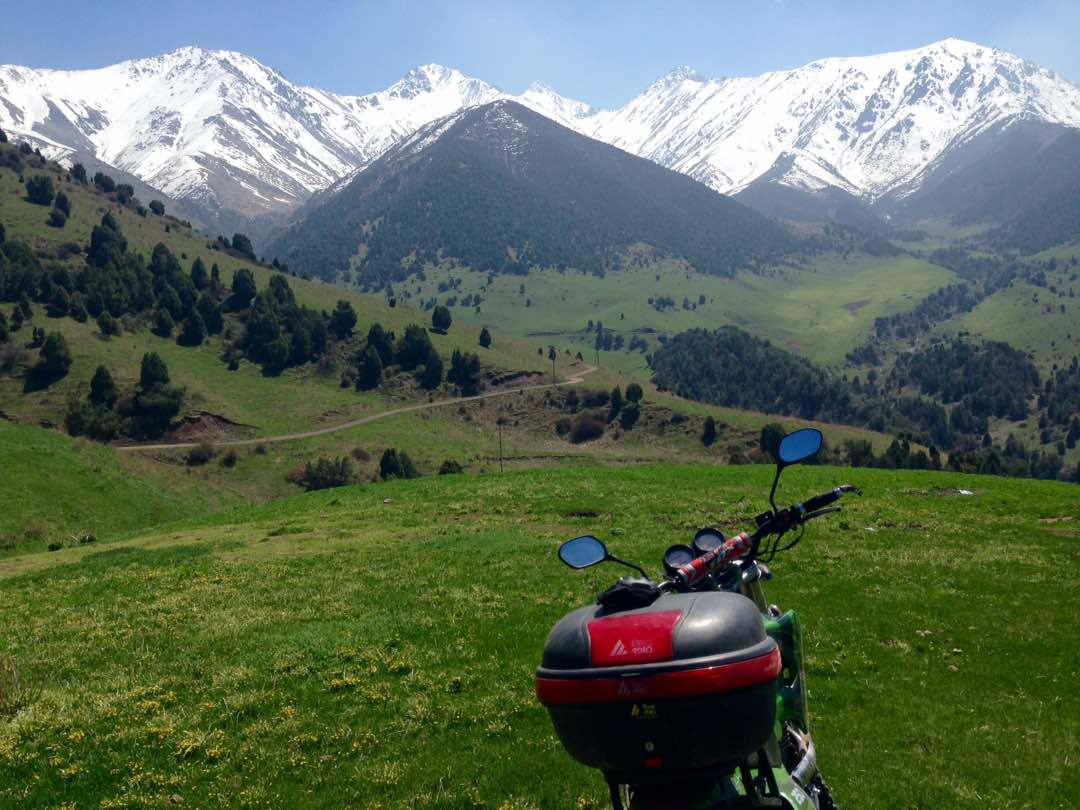 Attractions are as options: Horseriding, National Horsegames, Folklore Show.
200km. 100% of dirt and dusty roads.
---
Day 3.
After breakfast, a long ride through mountain ranges and valley is to come.
Moldo Ashu Pass descending down towards the village of Baetov, which is situated in the valley.
After having passed the village behind, we will take a Lunch Break in the mountains of Mels Ashuu Pass (3450m. high), from where you can enjoy viewing amazing scenery from birds eye.
On arrival to Tash Rabath, warm Yurts and local Hot Sauna is just what we need after such a hard Enduro trip. Dinner in a big Yurt. The altitude of the place of stay is 3000m.
Attractions are as options: Horseriding
250km. of ride. 100% dusty and dirt road
---
Day 4.
In the morning after breakfast we are heading to Naryn Town along the paved road. There we will have lunch in a small restaurant and move on up to Terskey Ala Too Mountain Range.
The place of stay on that day is Eki Naryn, situated 55km. from Naryn city on the intersection of two rivers Small Naryn and Big Naryn, where they come together into one wide Naryn river. Very beautiful scenery, taking a breath of fresh air with the smell of pinetrees will realy make you feel good.
On the bank of the river, in the mountain gorge there is a Yurt Camp. May consider this place "In the Middle of Nowhere". Setting up the fire and singing favorite songs would be fine.
260km. 80% is paved road, 20% is socondary road.
---
Day 5.
This day will make you hold your steel horses tight. Wild places, breathtaking views, high passes, and dust,dust,dust.
We will ride over the the Tosor Pass (up to 4000m. high) to the Souther part of Issik Kul Lake -second biggest Mountainous Lake in the world.
Picnic on the way. Dinner and spending night in Kadji Sai Village.
200km along the dusty dirt road
---
Day 6.
Next morning after breakfast we are riding along the Southern Shore of Issik Kul Lake.
First sightseeing is a Fairytale Canyon, to where we will take a turn off the highway a couple of km. to the south. It is realy a wonderful place, which looks like the Mars, where you can walk around and make nice snapshots.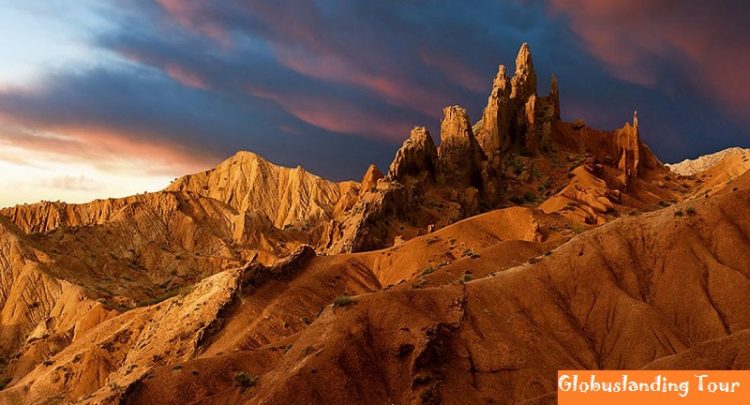 Then we will continue moving on to Barscoon Gorge to take a lunchbrake and see the Waterfall. Its gonna take about 20 min to climb up, if you still not tired to do some hiking.
Then we will ride up the mountainous pass through the swichbacks to reach the altitude of 4000m. No trees, no herbs, just rocky mountains and stones.
After descending down to the highway, we are riding to Jetti oguz Canyon.
After climbing up the panoramic hill and having made some nice shots, we will ride up along the Jetti Oguz gorge to see the most of this unforgetable scenery.
Then straight to the Hotel in Karakol Town.
After check- in and some rest, transfer to the restaurant by car for the dinner. Then back for overnight.
280km. 70% of paved road and 30% of dirt road
---
Day 7.
On that day we are riding along the Nothern Issik Kul highway to west. Semenov and Grigoriev Gorge are located off the road to the North.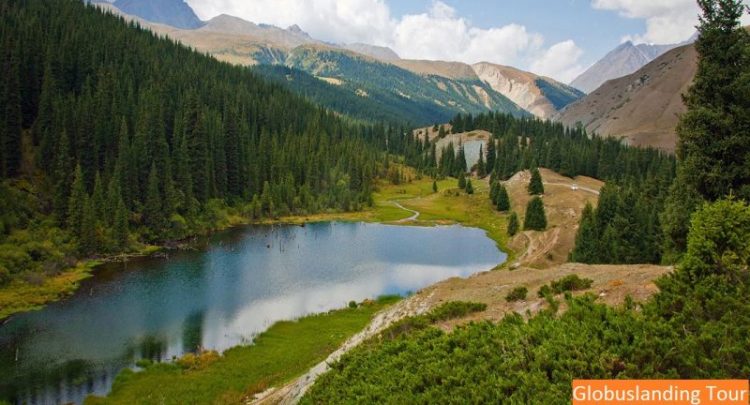 We will ride also to a small lake in the mountains.
Lunch in Grigoriev Gorge.
After caming back on the highway, we ride to village of Kara Oi, where we will stay for overnight and swim in the lake. Dinner and stay in a Gueshouse.
280km. 90% of paved road.
---
Day 8.
After breakfast we will move to Bishkek to finish our trip, check-in to the hotel, rest, farewell dinner and overnight sleep.
The next morning after breakfast you will be transfered to the airport.
Thank you for traveling with Globuslanding Tour
---
Contacts for more details or offering your own itinerary:
E-mail: serhiopower9@gmail.com
Whatsapp or Mobile: +996773247324