Kyrgyzstan Self Drive Tour
Destinations:
Bishkek
Chichkan Gorge
Sary Chelek
Arslanbob
Kazarman  Son Kul
Tash Rabat
Eki Naryn
Tosor Pass
Bokombaevo
Karakol
Cholpon Ata
Bishkek.
Book a trip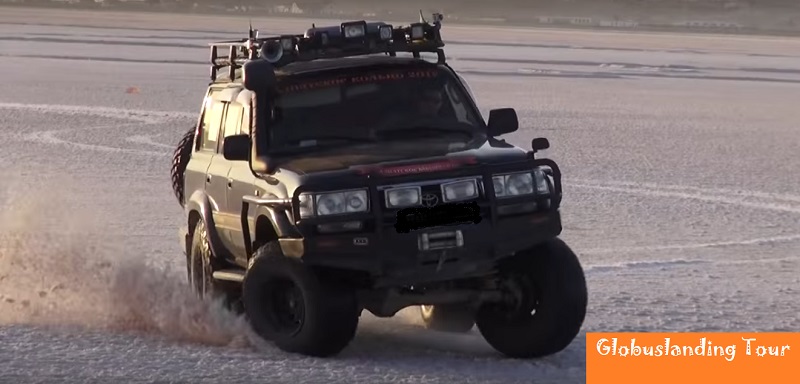 —————————————————————————————————————-
Day 1: Bishkek – Chichkan, 320 km, 100% asphalt
We meet you in the airport. Transfer to Bishkek to have an early check-in in 3 star hotel to have a short rest. After it we will be self-driving outside Bishkek. Today our 4X4 tour goes to Chichkan gorge. The road travels through the southern part of Kyrgyzstan. During the journey be prepared for amazing views of impressive mountains and gorges. Today you will see the panoramic views of Tue Ashuu pass which is more than 3 300 meters high. This road is considered to be one of the most beautiful in Kyrgyzstan. You will have many opportunities for photo stops to remember that day. The night you will spend in a hotel near the river Chichkan.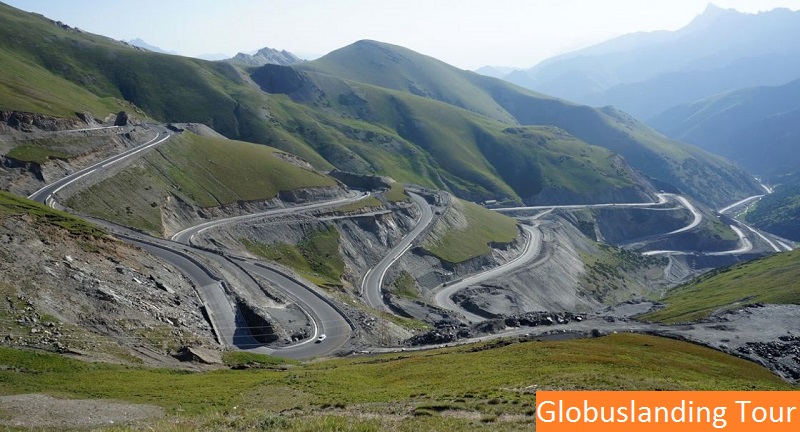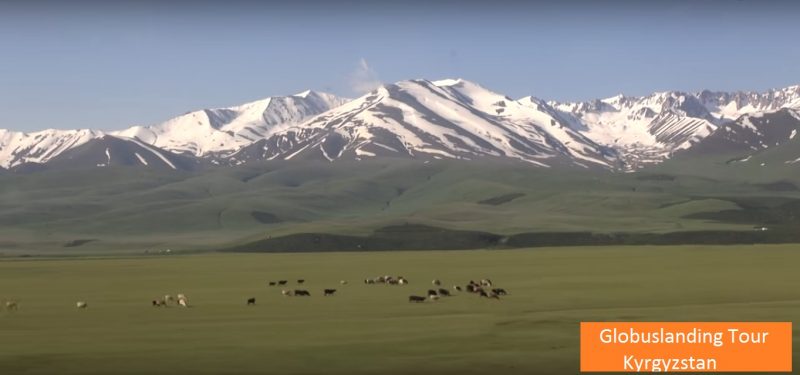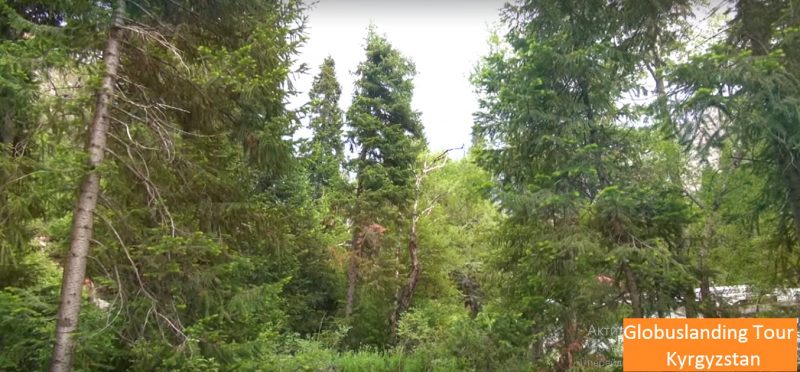 —————————————————————————————————————-
Day 2: Chichkan – Sary Chelek – 90% asphalt, 10% dirt road
Today we will have to start early in the morning. We will start drive at 8 a.m. to drive from Chichkan to amazing Sary Chelek Lake. The road will go along huge mountains and you will have many photo stops on the way. Sary Chelek lake is situated in the center of a National reserve, at the foot of the Chatkal mountain range, at an altitude of 1,873 m above sea level.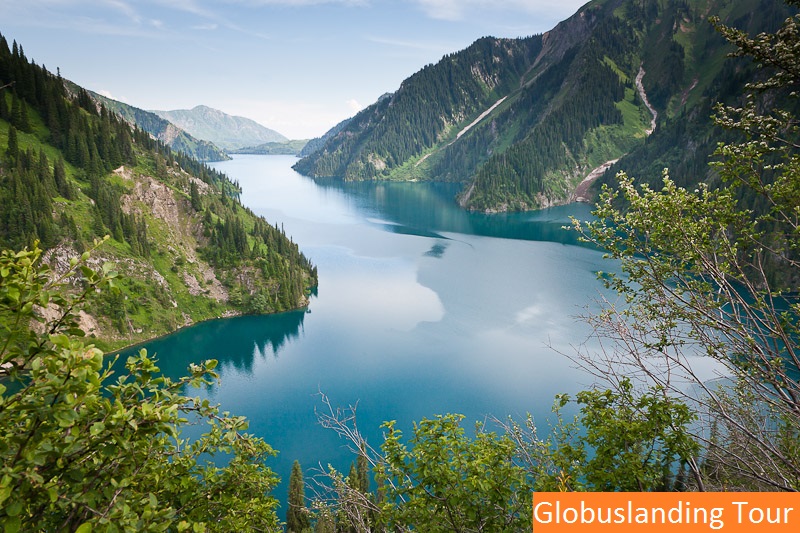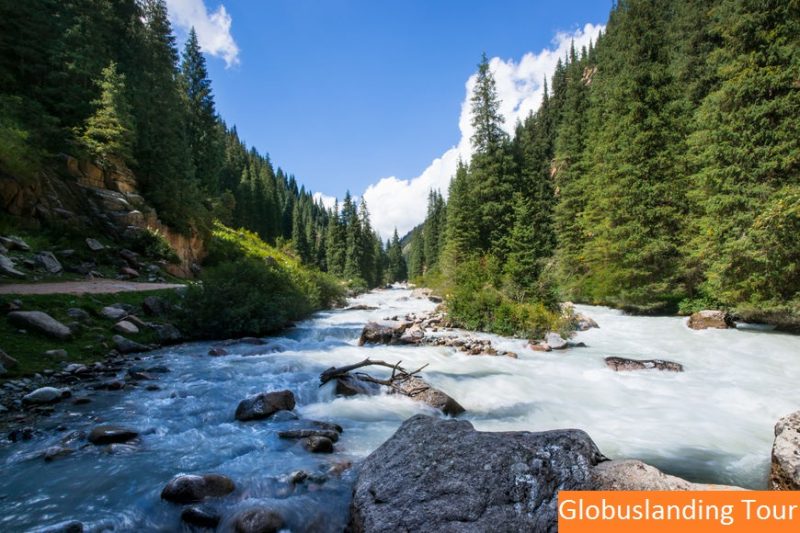 The lake is 234 m deep, 2,280 m wide and 7,500 m long. It appeared as a result of a strong earthquake. Its sweet water is so clear, that multicolored stones at the bottom of the lake and darting, timid fish are in full view. Grand mountains occupy most of the reserve, resting their snow-covered peaks against the sky. Overnight at the local Gueshouse.
—————————————————————————————————————-
Day 3: Sary Chelek – Arslanbob
In the evening you will come to Arslanbob. Arslanbob's grove produces 1500 tons of walnuts per year and is the largest single natural source of walnuts in the world. We will have a chance to go to the waterfall (small and biger ones) by retro russian nilitary Jeep for excursion. Overnight at the local guesthouse.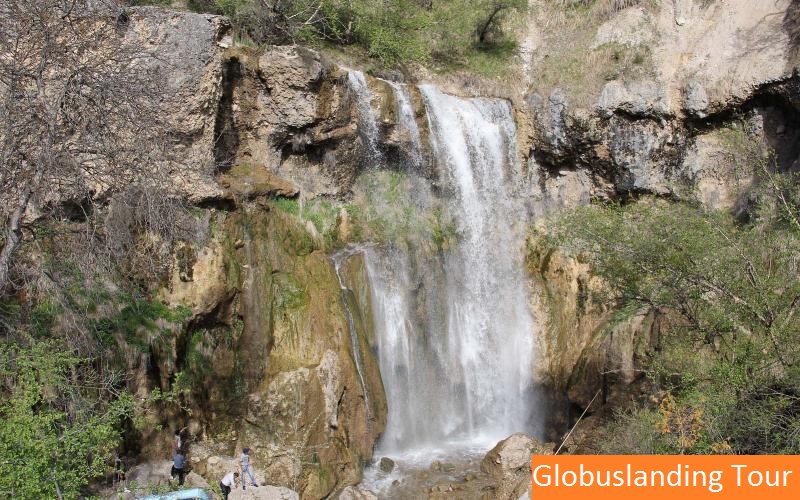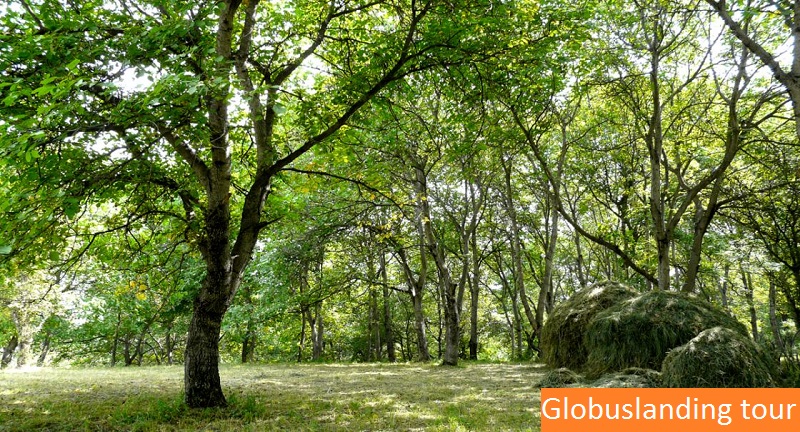 —————————————————————————————————————-
Day 4: Arslanbob – Kazarman, 270 km, 40% asphalt, 60% dirt road.
Today we will drive to Kazarman village. 93% of Kyrgyzstan is mountainous with nomadic life in remote places – our country is a real paradise for people that are in love with mountains and unusual cultures. The route takes you along roads that lead along incredible gorges. During your drive be prepared for amazing views of the impressive mountains and gorges. Today we will see some nomads that still live in this region. Night and dinner will be in a home stay. This is a very remote village.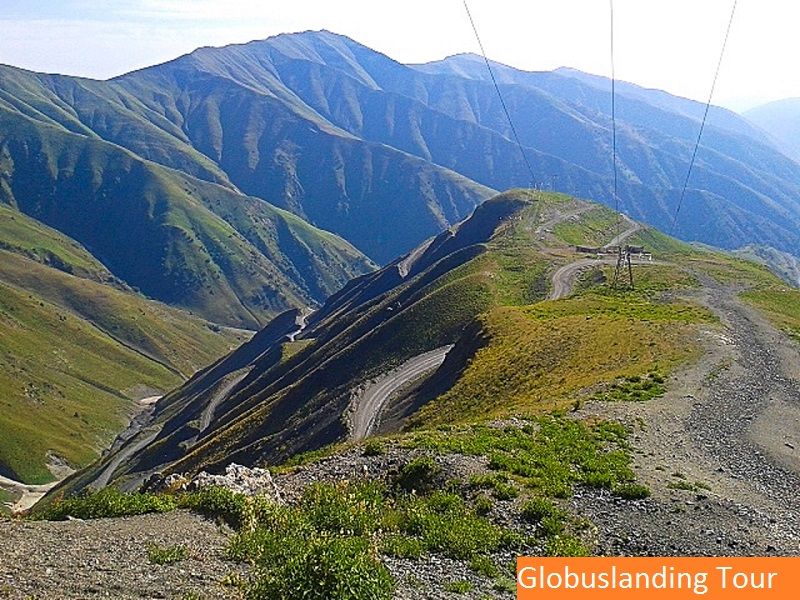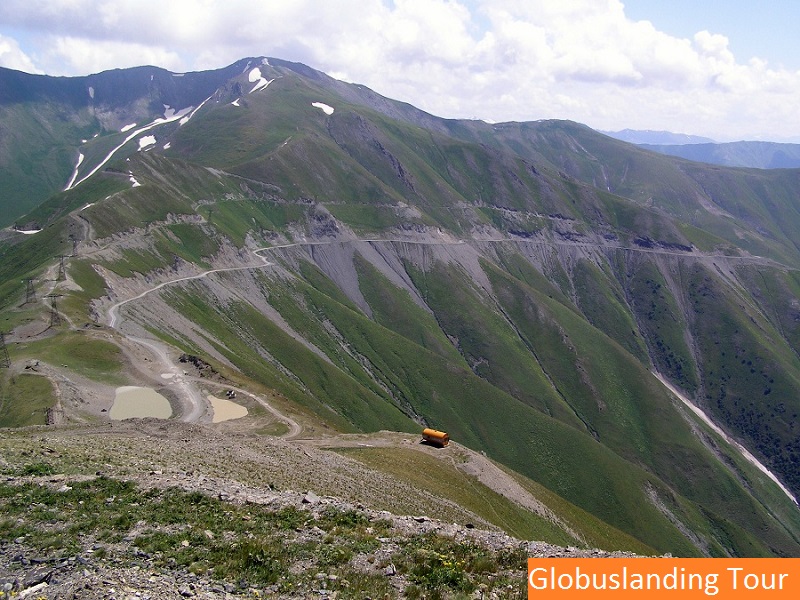 —————————————————————————————————————-
Day 5: Kazarman – Son Kul, 180 km, 10% asphalt, 90% dirt road.
 After breakfast we start our drive to the second largest lake in Kyrgyzstan – Son Kul Lake. This lake is surrounded by mountains and it is the highest alpine lake in Kyrgyzstan, situated at an altitude of 3100 meters above sea level.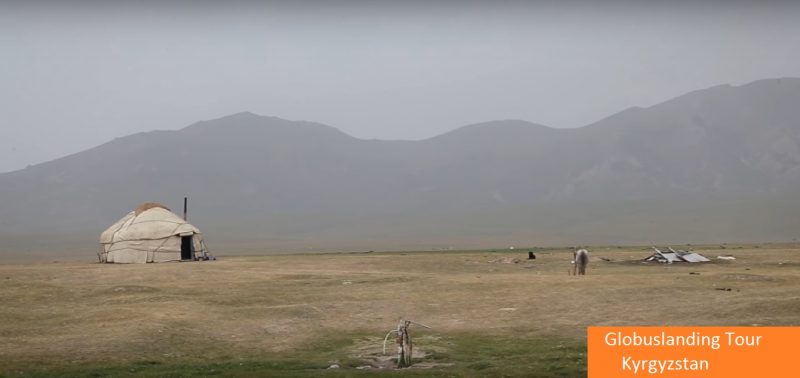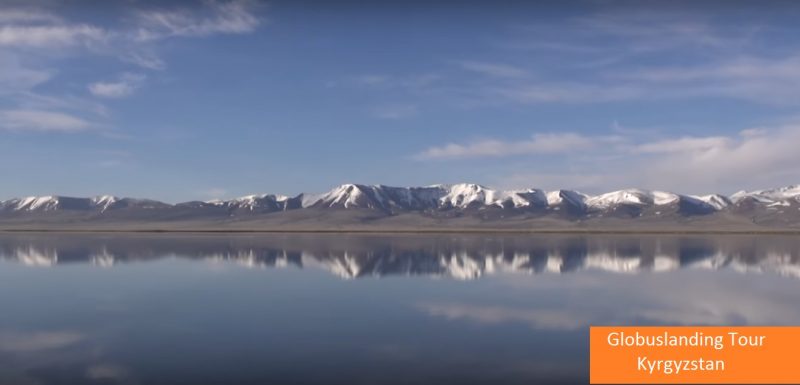 Kyrgyz nomads started to come to this wonderful area with their families for rest and relaxation. Herders of the Naryn region come to the lake to use it as a pastureland. After our arrival, you will be free to explore and enjoy the virgin nature of the lake and its surroundings. Dinner and overnight is in nomadic collapsible dwellings – yurts. They are made of a wooden skeleton, covered with felt coverings.
—————————————————————————————————————-
Day 6: Son Kul Lake, 145 km, 100% dirt road
Today you drive around the whole Lake and meet real nomads. It is a great chance to get acquainted with nomadic traditions and culture. All nomads are very hospitable. They will always invite you inside their yurts to drink tea with them. They are not used to seeing many tourists and are always happy to speak with you. Hospitality is one of the main laws among nomads. The used to say: "Guest is sent by God".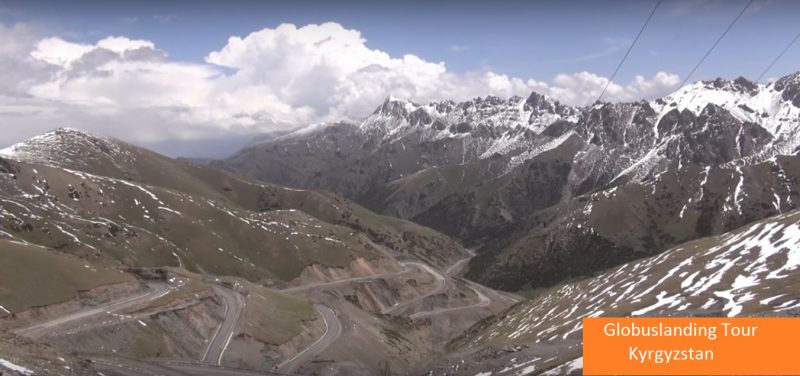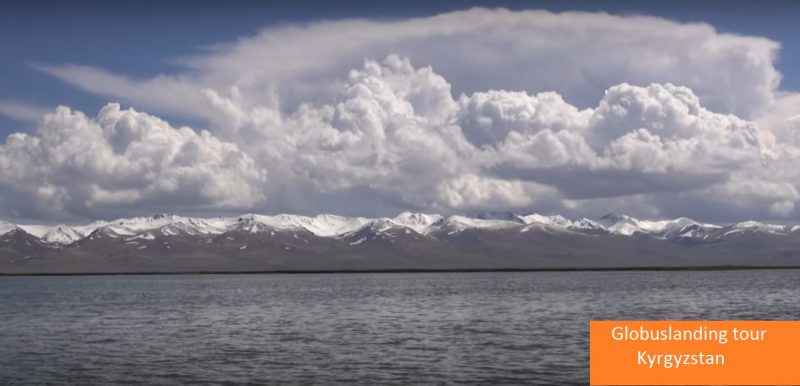 So they cannot just let you pass without having a rest with them. Also we will drive down along serpentine road to see amazing waterfall. A traditional dinner will be served in original nomadic houses – yurts. You will get to spend the night in yurts as nomads do.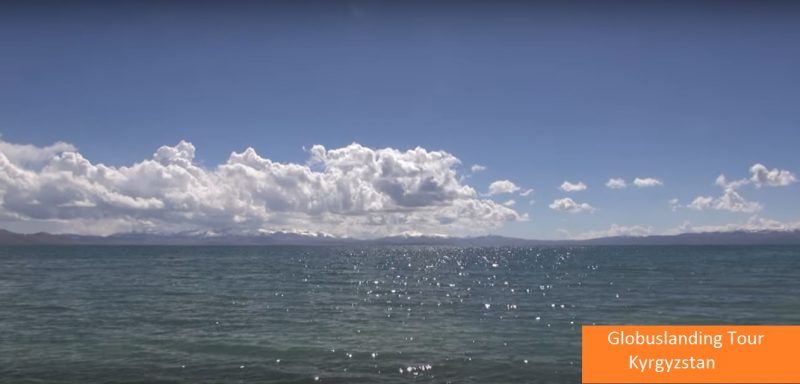 —————————————————————————————————————-
Day 7: Son Kul – Tash Rabat, 255 km, 20% asphalt, 80% dirt road.
In the morning we will continue our self-drive 4X4 tour. You will drive to the Tash Rabat Caravanserai on the Great Silk Road (Stone Castle from the 14th century). The building is unique. Tash Rabat is located at the very heart of Tian Shan Mountains.  Tash Rabat was built of stone blocks inside a mountain at an elevation of 3200 m above sea level. In total there are 31 rooms in the mountain. The walls are 1 m thick. There is also underground prison cells formerly used to incarcerate thieves in ancient times.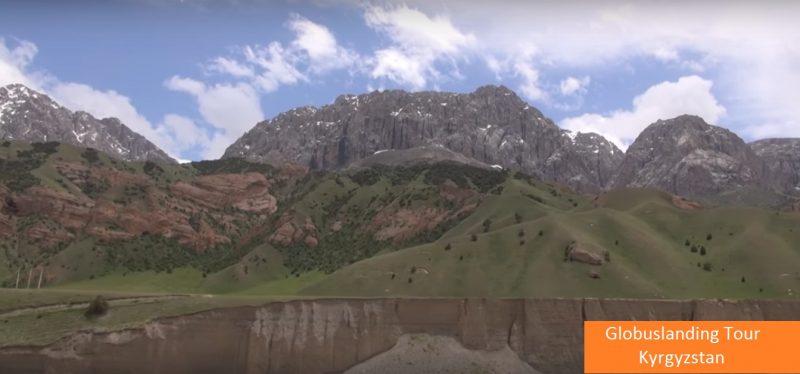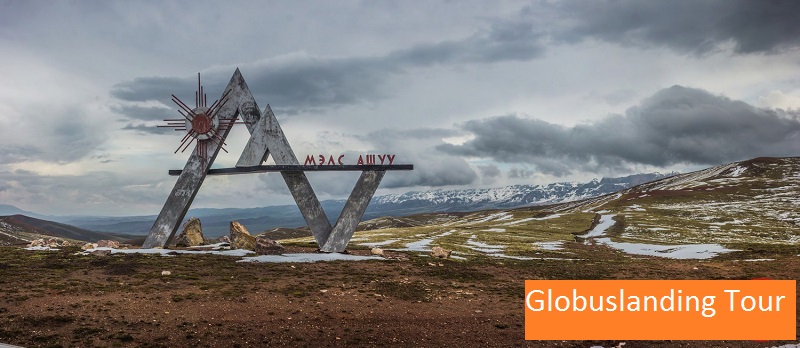 On the way we will drive along the most beautiful Moldo Ashu pass. It is more than 3 000 meters high. On the way you will drive along the top of a mountain! There will be a traditional dinner and the night will be spent in yurts near Tash Rabat Caravanserai.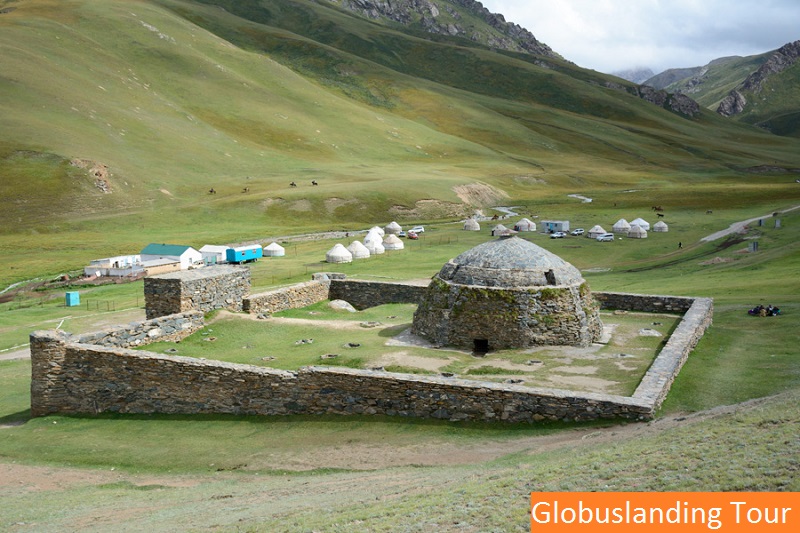 —————————————————————————————————————-
Day 8: Tash Rabat – Eki Naryn, 165 km, 65% asphalt, 35% dirty road
In the morning you can go for a walk or have horse riding (20 $ per person) till lunch time. It is a great chance to feel as a nomad and to see local people. After lunch we will drive along high mountains to Eki Naryn National Park. It is situated right in the gorge.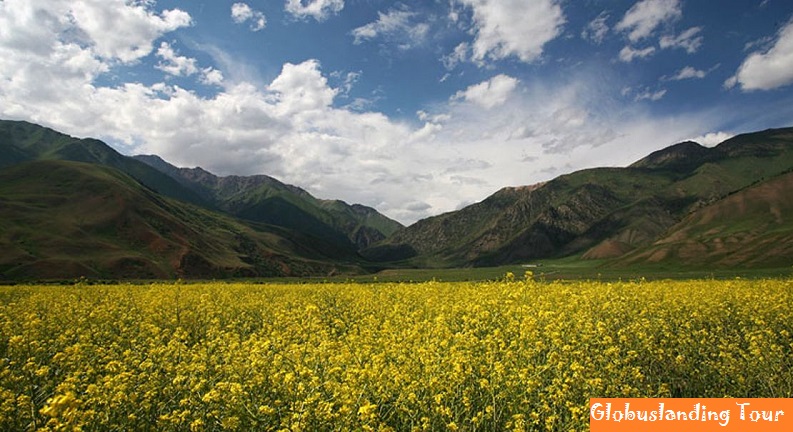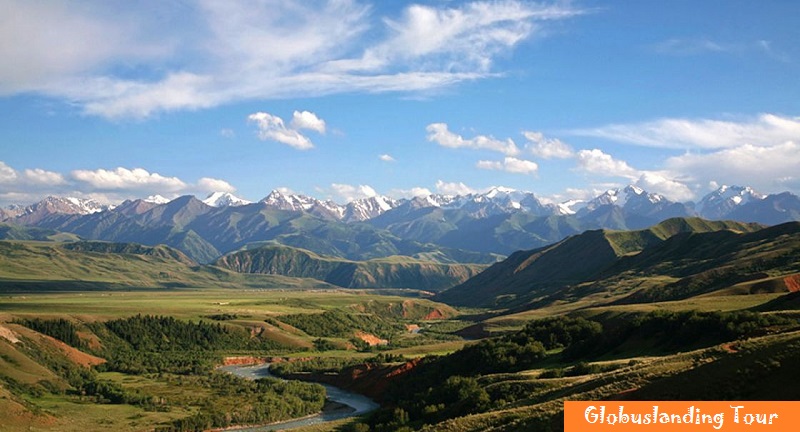 These passes on the way, combined with high mountains and nomadic way of life. Views of this mountain road are realy breathtaking. This day offers a great chance to experience the variety of mountains which make Kyrgyzstan so popular. On the way it will be possible to meet real nomadic families. Night will be in the yurtcamp.
—————————————————————————————————————-
Day 9: Eki Naryn – Tosor – Bokombaevo, 385 km, 10% asphalt, 90% dirt road
Today you will have the most exciting drive over the spectacular pass named Tosor Pass – its high is 3 980 meters. The views during this day are going to change from one to another so fast! Be ready to take pictures of breathtaking views of the snow-topped mountains with the view to the lake. Picnic is at 1 p.m.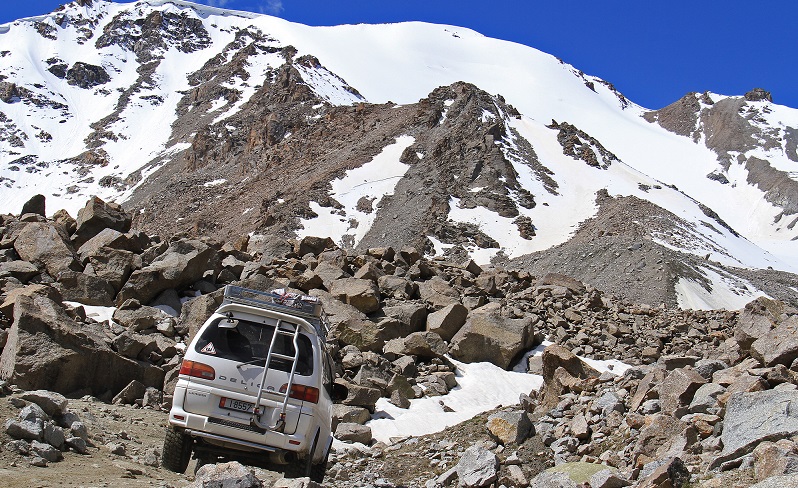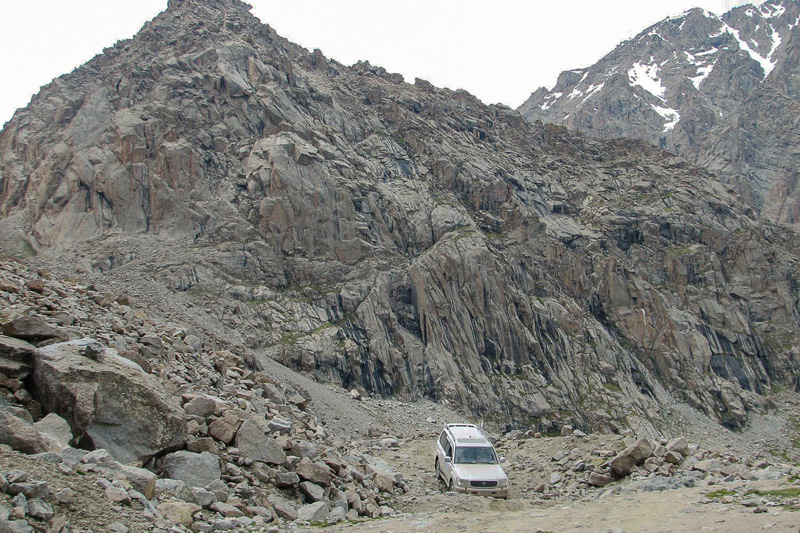 In the evening you will arrive to Issyk Kul Lake. It is the second largest alpine lake in the world (1608m.above sea level). The lake is frequently called "the pearl of Central Asia" and is the main touristic highlight in our country. You can come up to the lake and to see mountains all around it. Your dinner will be in a guesthouse or yurt camp. Night is in a guesthouse or yurt camp.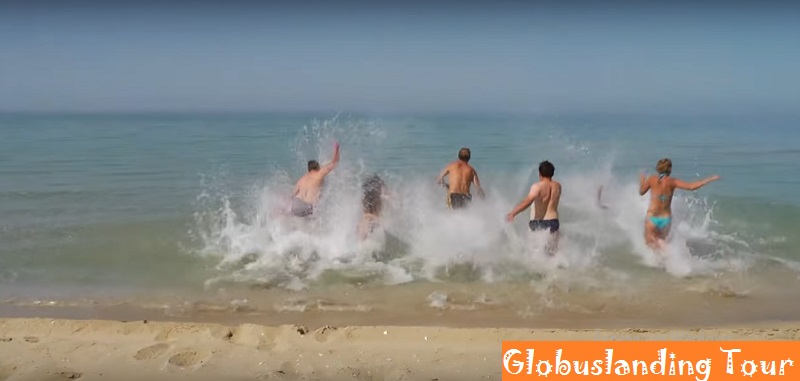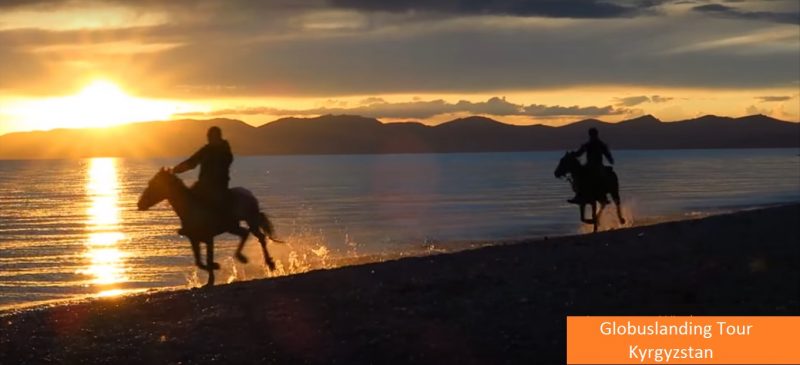 —————————————————————————————————————-
Day 10: Bokombaevo – Karakol, 80 % asphalt, 20% dirt road.
Fairytale Red Canyons
 The "Fairytale" valley which is also one of the most amazingly beautiful places in this area. There are sandstone cliffs have been shaped by centuries of wind and melting snow into an ensemble of columns, canyons and crag, ranging in color from deep red to bright orange. The most recognizable landmark of the Valley Fairy Tales – of course, a long chain of rocks, called the Chinese wall. After leaving to Karakol by south shore of Issyk-Kul lake.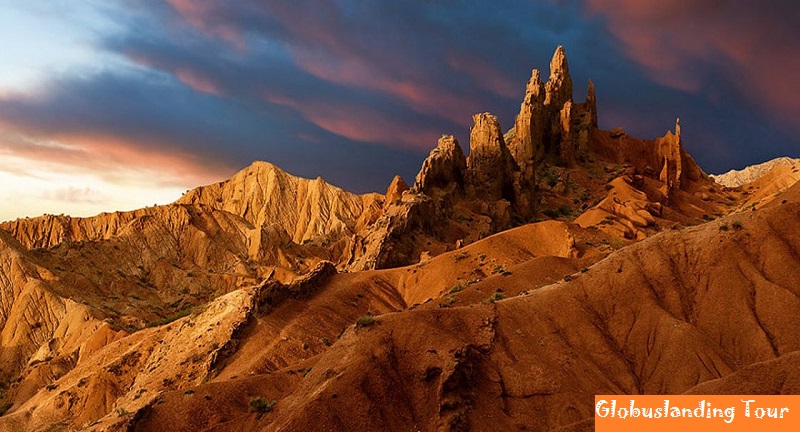 Barskoon Gorge
Barskoon is also a village at the mouth of the Barskoon valley – which has an impressive Barskoon waterfall "Leopard's tears" and is a good center for trekking and horse riding. The 11th century scholar Mahmud al-Kashgari (also known as Barskhani) was a native of this area. The road south from Barskon which passes up the Barskon valley (A364) used to be one of the routes of the Silk Road, passing over the Bedel Pass (3918m) into China. It is now the main road leading to the Kumtor Gold Mine – hence it is well maintained and there is a reasonable amount of traffic – including lorries making their way up to the mine and back. There are two interesting sights along the road – a Soviet lorry mounted on a plinth and a bust of Yuri Gagarin, who holidayed on the South shore of Issyk Kul after his historical first manned space flight.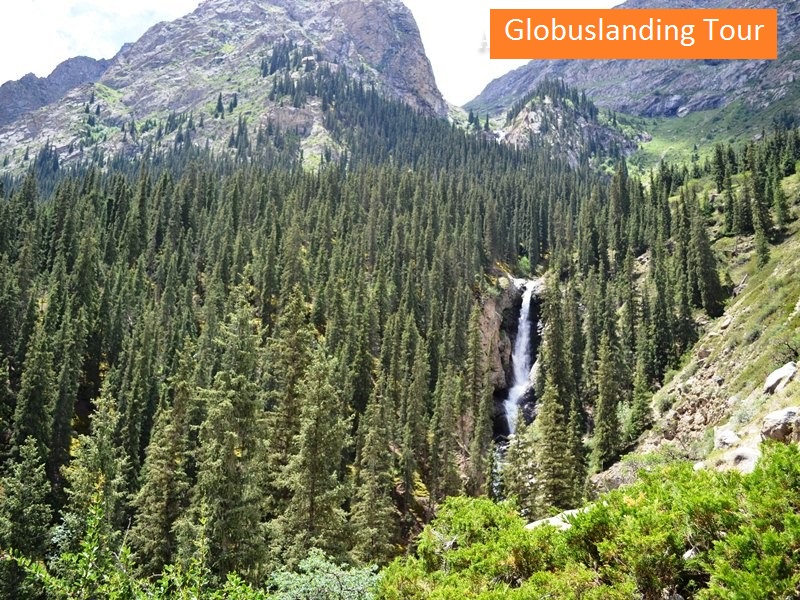 Beautiful Jetti Oguz Gorge
Jeti Oguz is famous for its red rocks formations that have a name Seven Bulls – Jeti Oguz. Also you will see there the Broken Heart Mountain. Then we will continue driving to thebeautiful waterfall Brides Tears along the gorge.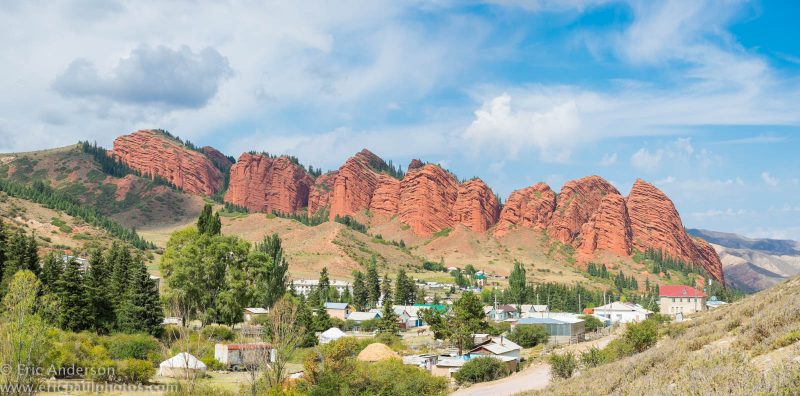 Afterwards we continue our way to Karakol town. Dinner and overnight at Hotel in Karakol.
—————————————————————————————————————-
Day 11: Karakol – Chon Kemin National Park
Today will drive to Chon kemin Valley. This time we will drive along the northern shore of Issyk Kul Lake. This is a great chance to see the whole lake from all sides. We will drive along Semenovskoye and Grigorievskoye gorges.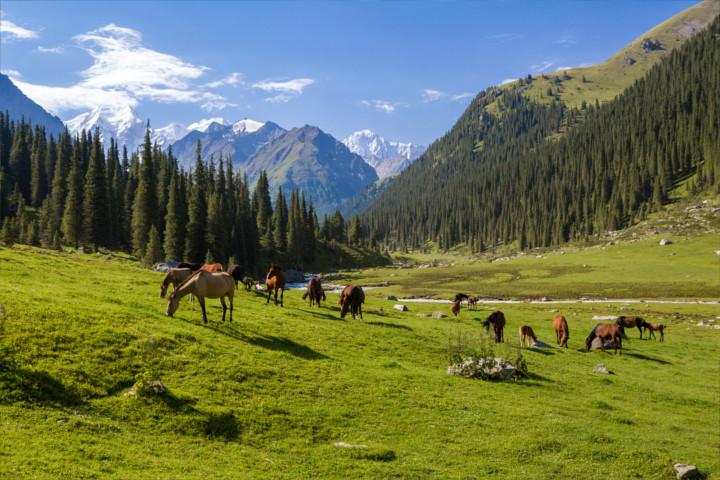 These two picturesque gorges are connected at the end. It means you will start driving in at one gorge and will drive out through the other one! While journeying from one gorge to another you will see yurts and we will stop many times to have a rest and to enjoy Mother Nature. Lunch will be a picnic. Dinner and night is in a guesthouse.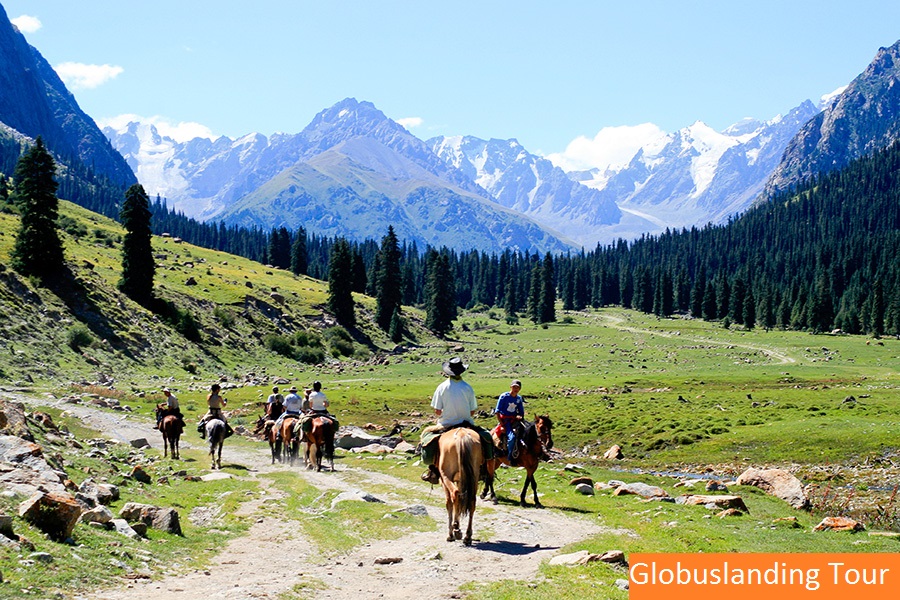 —————————————————————————————————————-
Day 12: Chon Kemin – Bishkek, 200 km, 80% asphalt
In the morning you will be transferred to Bishkek city. On the way, we will make a short break to give you the opportunity to visit ancient stone inscriptions (dating back to 800 B.C.). Today we will visit Burana Tower. It is a minaret from the 11th century.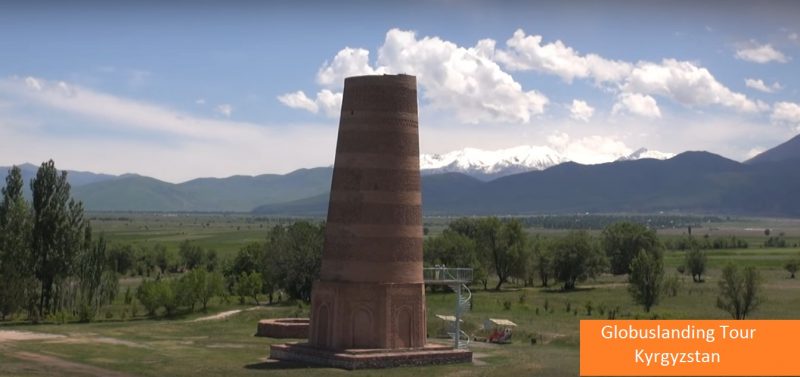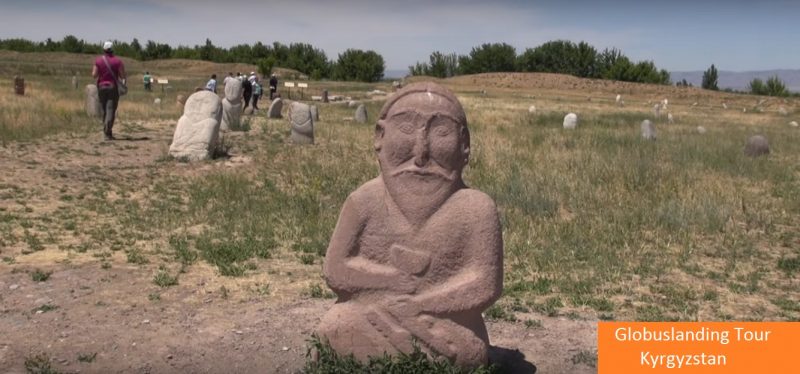 Burana Tower was used during the Great Silk Road as a sign for travelers that there was a city to have a rest. Nearby you will see an open air museum of Balbans (stone warriors). Then we will drive to the Kegety Gorge to enjoy vewing a waterfall in the mountains. Dinner is in a national restaurant. Night is in a hotel.
—————————————————————————————————————-
Day 13: Bishkek – Airport Manas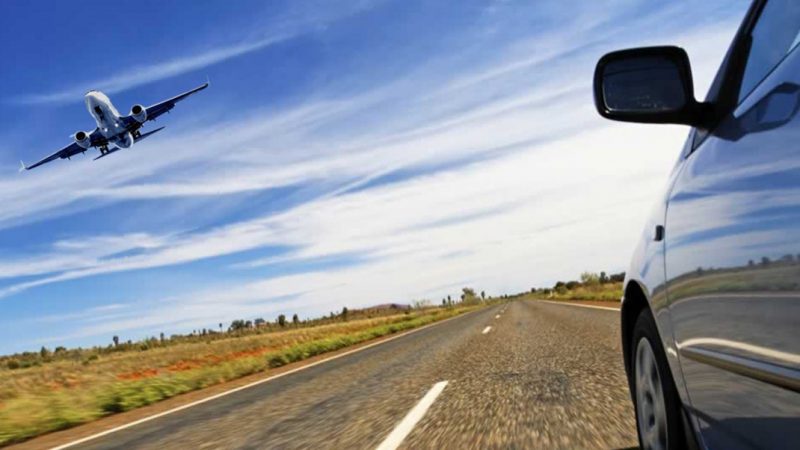 Contacts: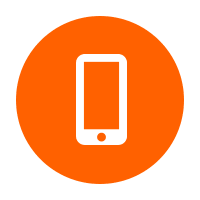 +996773247324

 +996558986289
serhiopower9@gmail.com