Our range of guided Kyrgyzstan motorcycle tours and self-guided motorcycle tour itineraries are designed so you can enjoy your ride time, while having the freedom to see the sights, explore the lesser known routes and meet the Nomadic locals. There are plenty of opportunities to learn about Kyrgyzstan, its landscape, culture, mountanous highland trails and people. At night, relax in the accommodations that we have carefully selected for your comfort and great service.
What do we provide during the tour?
If you are realy eager to travel the mountainous country Kyrgyzstan by motorbike and enjoy the whole beauty of nature, you got it! Offtroad trails with exiciting experience of adventure, accompanied by the guide on a board of 4X4 jeep with food supplies and all stuff that needed for the trip. All you have to do is to contact us and pick your personal tour program according to your needs and enterests. So, meals and accommodations will be provided during the whole trip.

What is the most enteresting itinerary to travel Kyrgyzstan?
Territory of Kyrgyzstan is not so huge, but if you want to visit all the beautiful places, the tour may take up to one month. So we picked up the most popular places of the country for the best itinerary to travel. Issik Kul Lake, Son Kul Lake, Tien Shan Mountain range, Suusamir Valley, Tash Rabath Caravan Serai, Mels Pass, Karakol region and many other spectacular places. So here is one of the best routes and  a program of traveling throughout Kyrgyzstan https://www.youtube.com/watch?v=QnDsiQmRzMU

Day 1
Bishkek – Kyzyl Oi
200km. 70% of paved asphalted road, 30% of dirt road
Picking up at the airport and transfer to the hotel by car. Having breakfast and some rest with great opportunity to take a shower :). Then, if you ready to hit the road, lets start up the engines and move to meet the challenges.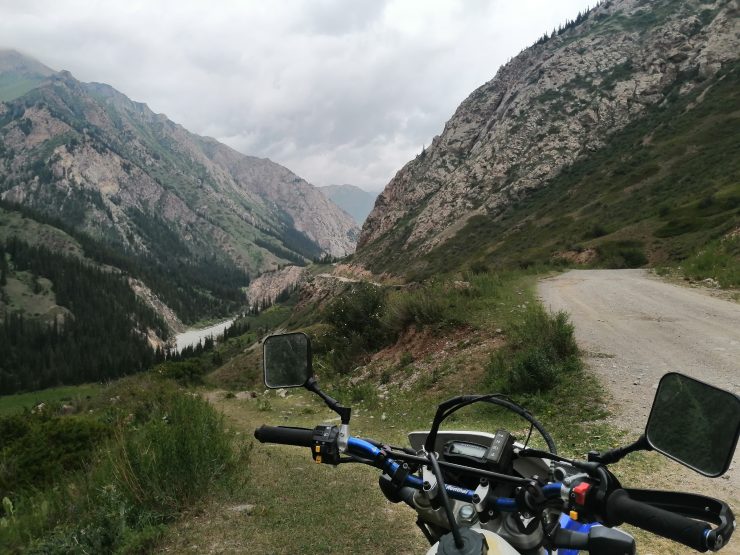 From Bishkek we ride along the highway M41 up to Too Ashu Pass (3350m. high) with the beautiful mountainous scenery. After passing the tunnel on the top and descending down to the valley of Suusamir have some lunchboxes and taking some snapshots of breathtaking views continue our trip along the dirt road to the east to Kysyl Oi village, where we will have dinner and spend overnight in a gesthouse owned by a hospitable Kyrgyz family.
Kyzyl-Oi is quite different from the other mountain villages in Kyrgyzstan. It existed even before the Great Socialist Revolution, and has therefore kept its distinct Central Asian character with its reddish clay houses. Kyzyl-Oi is located in a narrow gorge on the riverside of the powerful Kokomeren River some 40km south of Suusamyr on the road to Kochkor Village and Son-Kol Lake (both in Naryn region), and about 200km from Bishkek. The elevation is 1,800 metres asl; here, a valley opens up somewhat to form a hollow ringed by the high red-coloured mountains, which gave the place its name. Kyzyl means 'red' in Kyrgyz.

Day 2
Kyzyl Oi – Son Kul Lake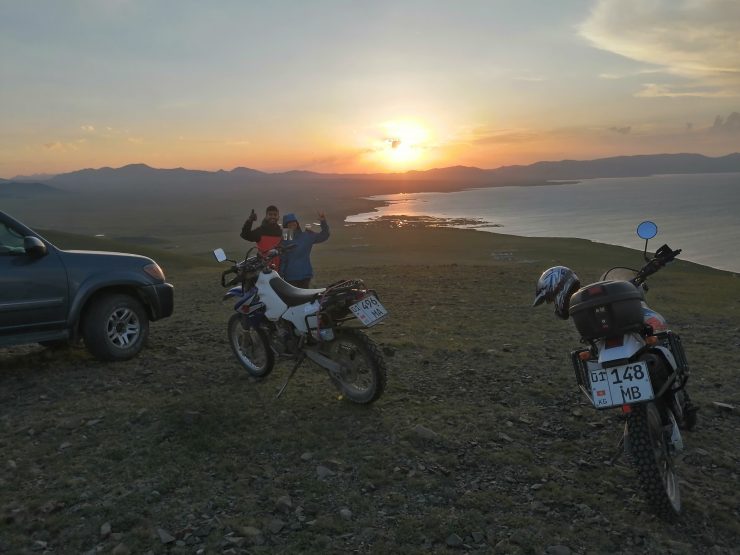 200km. 100% of dirt and dusty roads.
After having breakfast in Kyzyl Oi we continue our journey to Son Kul Lake, which is located between the mountains on the altitude of 3000 m. above the see level. Wild nature, spending night in a national nomadic portable house Yurt, feel the warmest hospitality of local people. Driving the whole day along the dusty, dirt roads via Kara Keche coal mining company and mountain passes.
On arrival to Son Kul Yurt Camp and having arranged, we will drive up the panoramic mountain, from where you can enjoy viewing the whole lake and beauty from the birds high to the sunset. Then after coming back to the camp, Dinner in Yurt. Though it is cold at nights at such an alltitude, all the yurt are heated with stoves.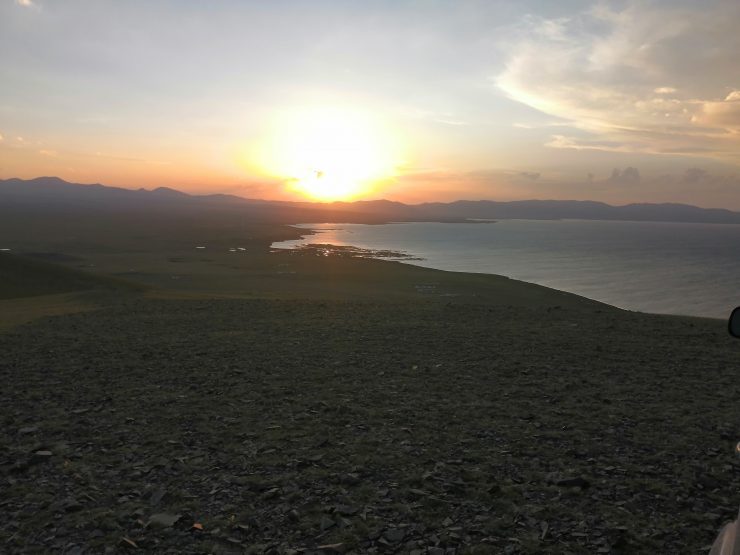 Son-Kul lies at an altitude of 3016 m (9895 feet) above sea level. At 29 km (18 miles) long and 18 km (11 miles) wide, and maximum depth of 13.2 m (43 feet), Son-Kul is Kyrgyzstan's second largest lake. The average temperature is only -3.5° C (26° F), though in summer the average temperature is 11° C (52° F). In winter, temperatures fall as low as -20° C (-4° F), and there are around 200 days of snow a year. This means that in winter, it is often impossible to reach the lake. Unlike Issyk-Kul, Son-Kul freezes in the winter, and remains frozen from September to June.

Day 3
Son Kul – Mels Pass – Tash Rabat
250km. of ride. 100% dusty and dirt road over the passes
Next day ride will be the longest and the most tough going. The whole way along the dusty, muddy stony trails.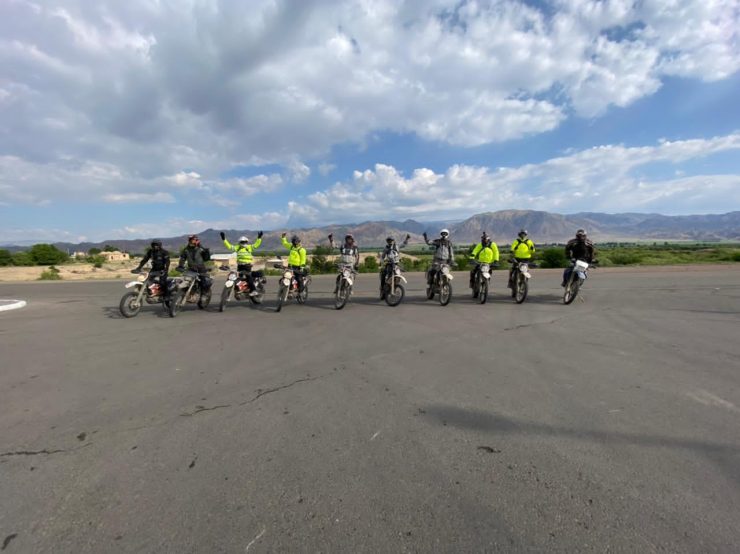 Moldo Ashu Pass
From the top of Moldo Ashu Pass, travelers can see almost the entire road winding up to the pass.  It also affords spectacular views of the Naryn Valley and some stunning mountain ranges to the south.  The ice-capped mountains, massive mountainside pine trees, and thick rolling fog create a surreal, heavenly atmosphere that will take your breath away.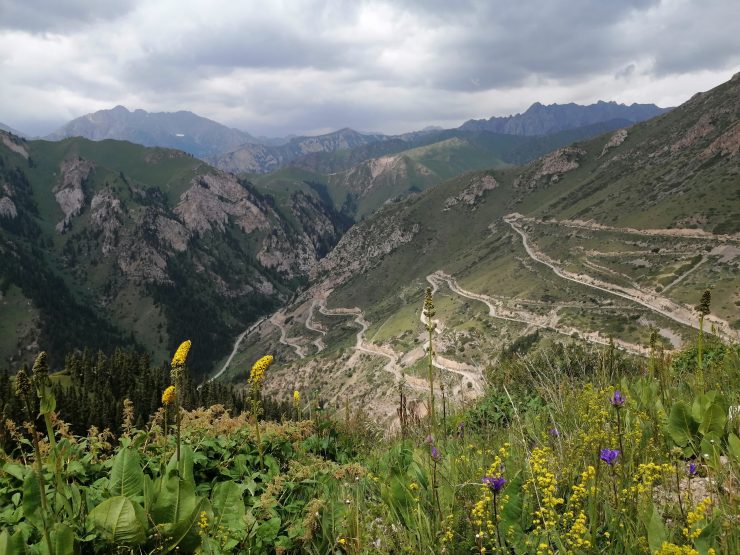 Mels  Ashu Pass
Mels Pass located in Naryn Region. Not far to the south of Baetovo village. the altittude of that pass reaches up to 3420 meters high. After having passed by the village Baetovo behind, we will take a Lunch Break on the top, from where you can enjoy viewing amazing scenery from birds eye.
Tash Rabat Caravansarai
Tash-Rabat was constructed in the 15th century, on the ancient trade route from Central Asia to China, and was a resting place for merchants, ambassadors, travelers and other wanderers. It is the largest structure built of stone from Central Asian architecture of that epoch. It is notable not only for it's size and building materials, but also for its special layout, based on perfect symmetry. Lost among the primeval wilderness, far from inhabited locations, the caravanserai looks unbleached, monumental and unassailable. On arrival to Tash Rabath, warm Yurts and local Hot Sauna is just what we need after such a hard Enduro trip. Dinner in a big Yurt. The altitude of the place of stay is over 3200m.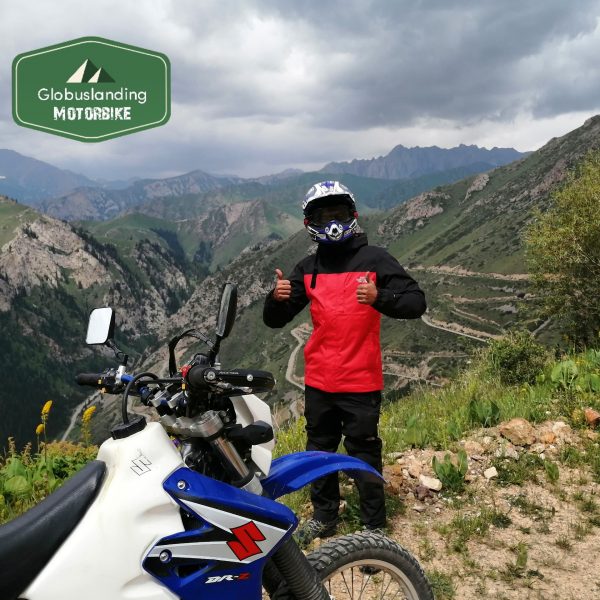 Day 4
Tash Rabat Day Rest
This day will be dedicated for recovery, rest, fixing bikes, fooling around, horseback riding and excursion to Tash Rabat Museum. Some of those who are still full of strenth have a great opportunity to ride over the nearby hills and      mountains.


Day 5
Tash Rabat – Eki Naryn Yurt Camp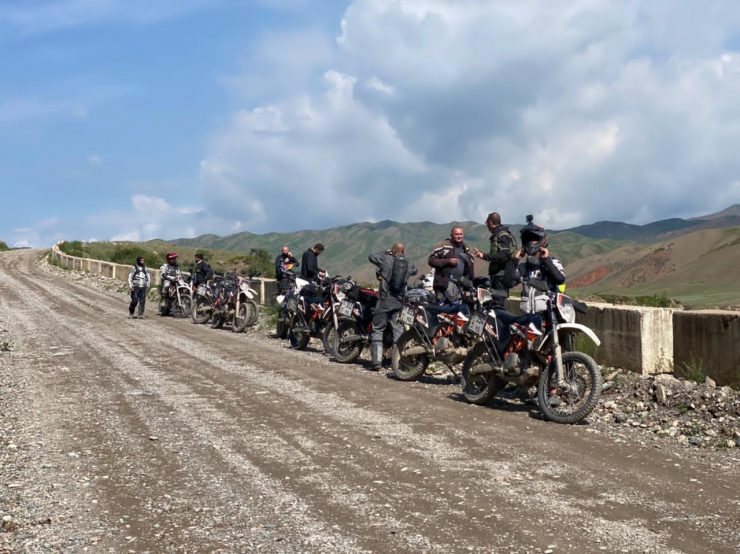 Distance is 220Km. 65% of paved road and 35% of dust roads
This day will make you hold your steel horses tight. Wild places, breathtaking views.
As you make your way past dusty hamlet of Tash Bashat, Eki Naryn suddenly springs into view, perched on a cliff-top above the wild confluence of 2 rivers (both called Naryn).
In fact the name of the valley and village Eki Naryn can be translated from Kyrgyz to mean "Two Naryns." These large and small tributaries merge together to form the more powerful river Naryn that flows down to the city; longstanding plans to build hydroelectric dams in multiple places to make the area energy producer have been in the works for ages but, like many things here, are slow to transpire. For those seeking to fulfill their unattainable dreams of a tranquil rural idyll in the midst of a busy progressing world, you're tantalizingly close here.
Overnight stay will be in Yurts

Day 6
Eki Naryn – Tosor Pass – South of Issik Kul – Bokombaevo Yurt Camp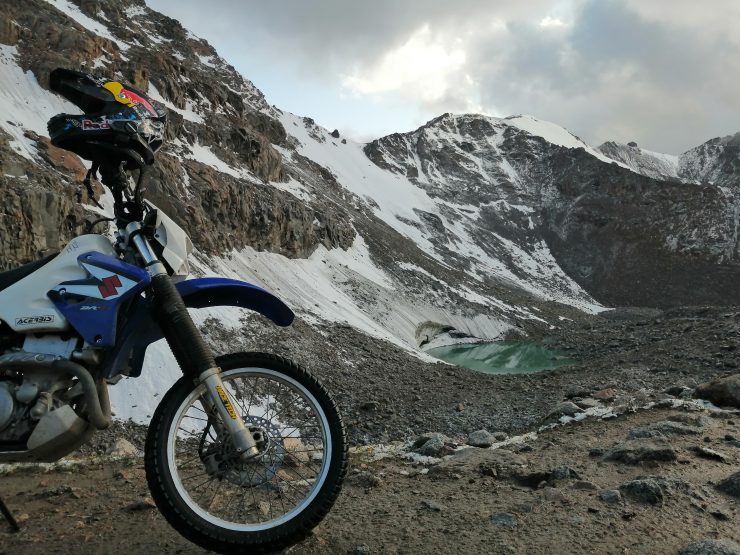 Distance is 220Km. 95% offroad and 5% paved road
Next day ride will be the most difficult to ride over the high pass of Tosor.
A difficult road cross this pass, through the Terskey Alatoo and permit to link the south shore of the Issyk Kul's lake to the Djiluu Suu valley. The pass is not opening by the government, so it means you can maybe pass between snowfalls, and with a very good 4×4 car or adventure motorbike.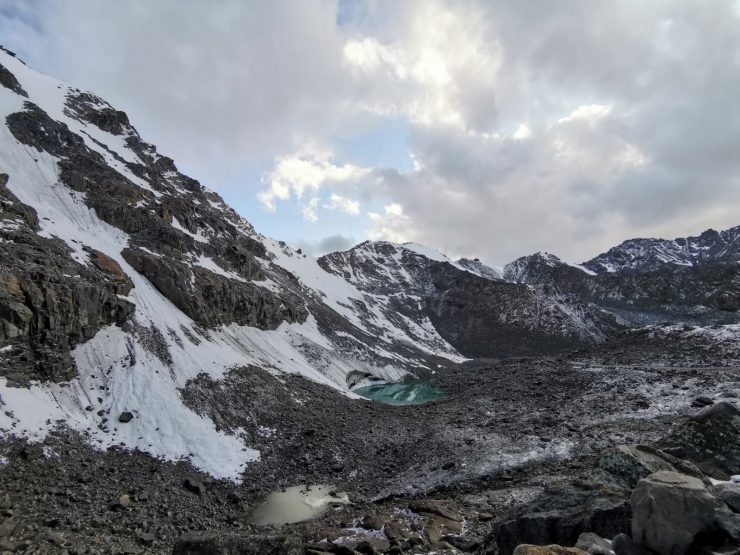 The Tosor pass is on Terskey Ala-Too at an altitude of 3893 m. The pass has a flow road line connecting the Issyk-Kul and Naryn oblasts. The pass difficult enough to passage: a steep descent and rocky snow-covered trails.
On the pass fully felt a sense of serenity, and it seems as if there are mountains breathe somewhere nearby.
On the way to the pass locate the same name Tosor village and the site of ancient people, where, presumably, made different tools.
Overnight stay in yurt camp on the southern shore near Bokombaevo village in Yurt camp.

Day 7
Bokombaevo – Bishkek
Distance is 300Km. along the speedway
The last day of our trip is a ride along the highway back to Bishkek. on the way we can drop by the lake to have a swim torefresh and say goodbye to the lake and mountain.
In the evening the farewell dinner and back to hotel in Bishkek.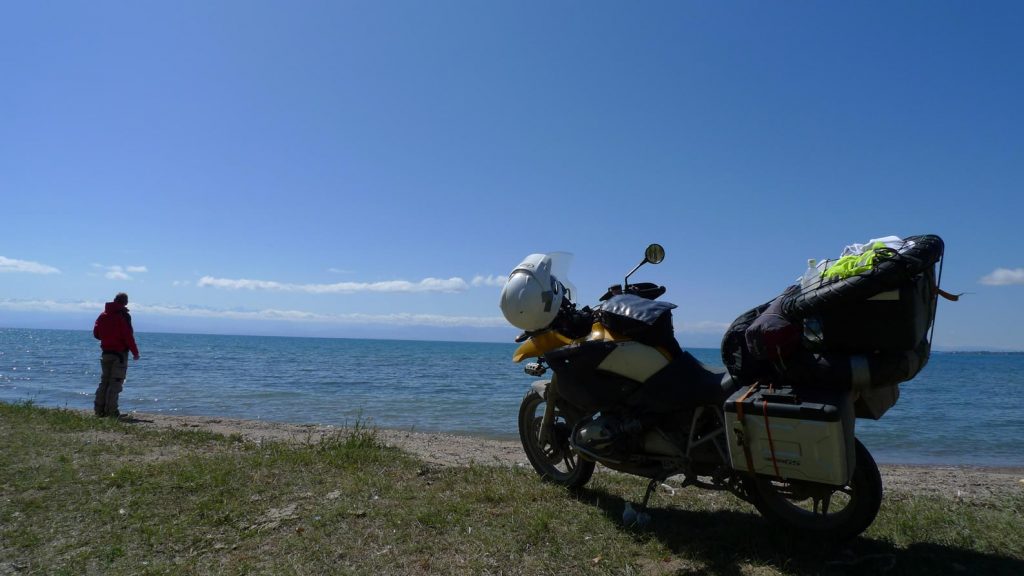 Day 8
Airport transfer
---
Contacts
Whatsapp : +996773247324
Mobile +996755220192